What is a vAtom?
Introduction
With the advent of blockchain technology, the digital world has taken one step closer to resembling the physical world. Digital objects now have characteristics that make them unique, ownable, and tradable, giving rise to a new age, the internet of value.
Until now, most of these new digital objects have expressed themselves in the form of digital currencies, but the next evolution of digital objects is here. Objects that retain all the characteristics of a digital currency but now with a highly intelligent feature set, a new asset class is born.
Introducing the virtual atom, or vAtom (pronounced VAT-uhm), a smart digital object that encapsulates value and fundamentally changes how we connect with each other.
Capabilities
vAtoms function as virtual objects on the blockchain. Just as atoms have been called the building blocks of the universe, vAtoms are the building blocks of a world where digital and virtual goods can be anchored to a blockchain. vAtoms are scarce and unique digital objects that can be acquired, traded or redeemed by the customer as part of an ongoing experiential relationship.
Imagine that instead of being bombarded with messages about "coming fall drinks" you could instead use your smartphone to hunt for AR-based vAtoms creating a fun experience to interact with a product you enjoy. You could then use these vAtoms on your smartphone to enjoy an actual free coconut latte at the local coffee shop from a promotion.
What if the ticket you buy to go see your favorite team play actually came alive as you walk into the stadium because it's geo-aware. Intelligence can be built into the experience and after arriving at an event, you could be entered into a drawing to meet your favorite stars, or upgrade you to a VIP experience.
Since vAtoms are based on a software system, their capabilities are bounded only by the imagination of a development team. Almost anything you can program software to do, a vAtom can do. The possibilities are vast, and when you incorporate rich multimedia and graphics, these objects literally come to life.
Imagine if, as a developer, you could create uniquely valuable objects for your own industry. Where can intelligent, autonomous objects enhance the value chain across your industry? The BLOCKv platform makes answering this question possible.
vAtom Examples
The New Ticket
Most of us are familiar with access to an event, whether that be for entertainment or travel, we've used a ticket before. A ticket needs to have certain characteristics; it needs to be unique and authentic. Blockchain enables such security to be inherent within a digital ticket, but vAtoms enhance the experience.
Since a ticket is used for a discrete event, we can segment out pre, during, and post experiences. Supplementing the event with new ways to interact with the user is now possible.
Pre event; An artist can send exclusive content before a ticket holder attends a concert with new tracks and artwork never seen before. This is a great way to fire up the fans and create buzz on social channels.
During the event; the artist can create a geo-aware feature that unlocks surprises upon arriving to the venue for chances to win and redeem prizes.
Post event; made available only to ticket holders, the artist can provide experiences such as:
Memorabilia (e.g. video, photos, clips) from the event
Discounts on future events
Gameplay for multi-event attendance (e.g. attend four concerts get upgraded to VIP at the fifth)
One of the most important things for a brand to have is access to their customer. Through vAtoms, a new private channel can be created that makes the customer feel valued. In the below example, four unique experiences were shared with the ticket holder.
"Passport" Onboarding & Content

Introduction of this new ticketing experience along with never before heard artist tracks.

Party Ticket

An animated ticket that, once scanned, transforms into album artwork and messages that only attendees of the event have access to.

Chat

Real-life connections in a private chat room where guests can chat with the artist and each other.

Contest

Entry into a contest that gives one lucky fan the experience of a lifetime.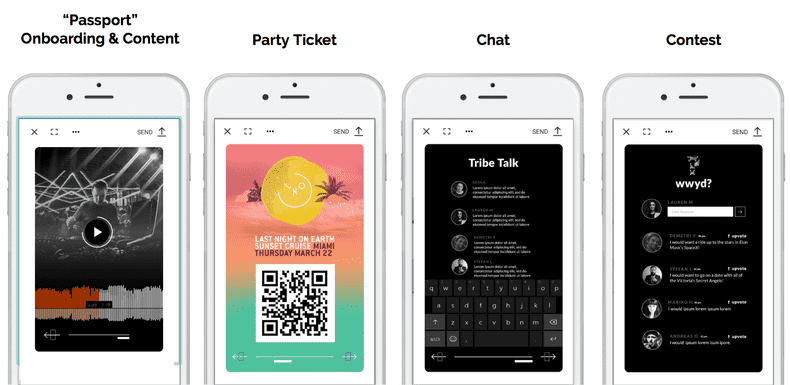 Making events unforgettable; that's the objective for every event producer and attendee as we spend our precious time going to see our favorite acts. vAtoms make engagement easy through delivering a richer, fuller experience from beginning to end.
Experiential Marketing - The Treasure Hunt
Human behavior is influenced by emotion, when thinking about how to apply vAtoms in the world for a specific campaign, the concept of gamification becomes relevant. If we can take a process of engagement and add a layer of fun, then a new way to connect with a customer base is born.
We saw this take place when vAtoms were dropped around a city for a surprise campaign. To find them, clues were given to customers and they were asked to hunt them down. Once found, the object came to life and revealed the prizes within. Fun never goes out of style, and when it can be used to share an idea, promote a product, or give something away, it's highly effective.
Experiential Advertising
Everyone loves a gift, especially one that has intrinsic value. Now advertisers can create images that come to life when the user interacts with them. The below image is an object with real value inside. Using the vAtom Viewer, one simply points their camera at the object to receive it into their inventory along with its contents. Advertisers can now use ownable digital objects that have personalities. But this is just the beginning. With multimedia advertising, 3D objects, augmented reality, holograms, and virtual reality, a new era of communication and connection is upon us.
Scan the image below to get a sample of what's to come.
Loyalty/Rewards
Today in the loyalty space a customer gets a loyalty punch card or downloads an App. In the case of a physical card, having to be present each time you're using a product or service is cumbersome. If you have the loyalty as part of an App, then most people abandon the App after a short period. With digital objects, a new way to reward the customer takes shape. In the digital world, and object has much more capability because the objects themselves are intelligent; they can do all the thinking for you.
For example, each time you show up at the location and execute a transaction to use a product or service, a new reward piece drops into your phone. Once all the rewards are collected, the vAtom transforms into a full redeemable reward.
Marketers can use rewards to incentivize customer behavior. In the below share card, each time you sent the card to someone in your network, you received more points. The more shares, the more points, the more people have the card to spread the message.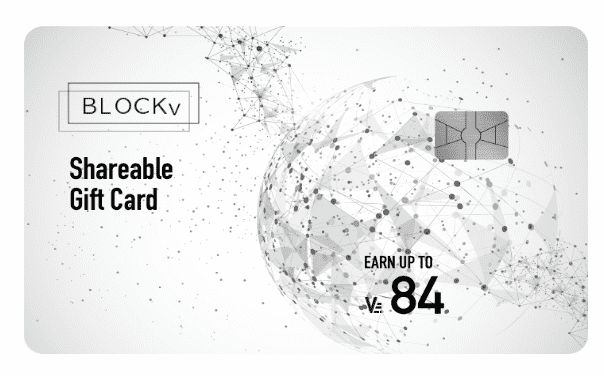 Deep Dive into the World of vAtoms
Interaction
vAtoms live in the cloud, independent of how they are accessed. There are numerous ways to access and interact with vAtoms, such as:
vAtom Viewer iOS & Android apps
vAtom Viewer web app (coming soon)
Partner white-label apps
Virtual reality viewers
Augmented reality viewers in real-world locations
Third-party app integration via SDK
Acquisition and Distribution:
Another characteristic that makes vAtoms so interesting is the many ways they can be acquired and distributed. This makes moving these objects across many channels quite seamless. For example vAtoms can be:
Sent and received via

Text
Email
Twitter
Facebook
Instagram

Captured from Billboards and Ads
Purchased or traded on marketplaces

Picked up from

Radio
Television
Real-world environments with augmented reality (i.e. Pokemon Go).
The multitude of ways to come into contact with vAtoms make it easy to share, connect, and engage with an eager audience.
Attributes of a vAtom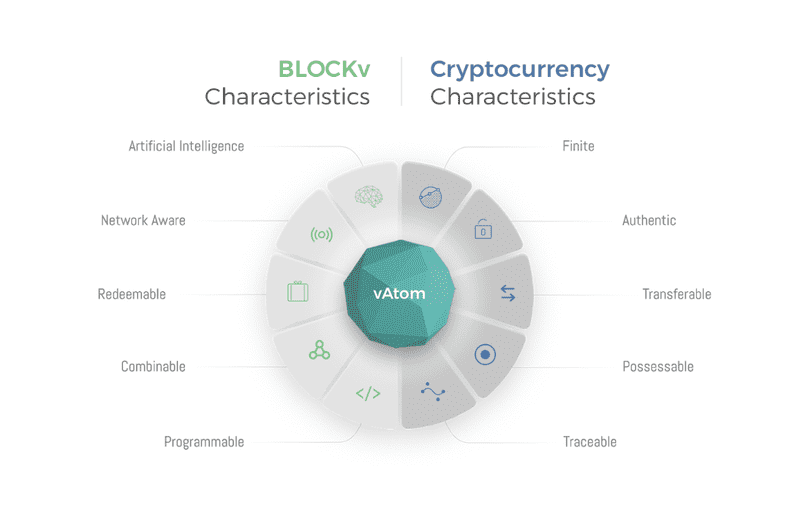 Finite
vAtoms can have inherent value due to their scarcity. They maintain their finite quantity no matter how many times they are traded or shared, or how long they have been held. For example, if 10 Coca-Cola vAtoms are created, only 10 virtual bottles will be available for redemption, no matter the activity history. Because vAtoms cannot be counterfeited, precise quantities are maintained at all times.
Authentic
The value of a vAtom can be demonstrated by its authenticity. The creation, existence and authenticity of a vAtom can be proven at any time, verified through the blockchain.
Transferrable
vAtoms are quickly and easily shared across mobile devices. They can be easily be transferred to and received from others as a gift, trade, or transaction. Once transferred, the vAtom moves from the old owner's inventory to the new owner's inventory.
Possessable
A powerful feature is that vAtoms can be programmed to be possessable. Unlike other digital goods that can be duplicated and devalued, whoever is in possession of a vAtom owns it.
Traceable
The blockchain provides vAtoms with a traceable history and lineage. The chain of title allows you to trace the ownership, activities, and geographical paths throughout the vAtom's life cycle.
This delivers a reliable platform for rewards-based advertising where consumers can be incentivized for both their actions and those in their downline.
Programmable
vAtom's functions and actions are programmable in JavaScript and HTML.
Combinable
Multiple vAtoms can be combined to create one vAtom of higher value. These vAtoms can be collected from various physical locations or by performing an action (such as sharing). Gamification can then be used to reward people for obtaining multiple vAtoms. For example, someone attending multiple events can combine vAtoms they received to gain entry to a premium event; or a key they found in one location can unlock a mystery box found in another.
Redeemable
Many vAtoms hold value and represent goods in the real world. They can be redeemed for physical goods at a store or for an experience with a service provider. A Coca-Cola vAtom can be redeemed for a bottle of Coke in a store, or a Nike vAtom can be given as a redeemable birthday gift.
Network Aware
vAtoms have the intelligence to become aware of their surroundings and what is happening in the world. They can be programmed to react to or perform actions based on external events in the real world. For example if the L.A. Lakers win a game, a virtual ticket stub can turn into a promotion for a free taco. vAtom's can also offer alternative discounts and change states based on season and weather conditions.
Artificial Intelligence
vAtoms have the intelligence to become aware of their surroundings and what is happening in the world.